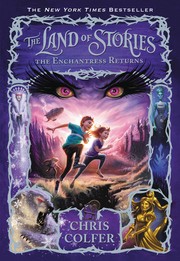 F COL
The Land of Stories: Bk 2, The Enchantress Returns : The Enchantress Returns
New York : Little, Brown and Co., 2013.
517 p. : col. map ; 21 cm.
Against the will of their grandmother, twins Alex and Conner must find their own way into the Land of Stories to rescue their mother and save the fairy tale world from the greatest threat it has ever faced--the return of the Enchantress who cursed Sleeping Beauty.
No Reading Program: Level 4.6 / 27.0. Points
Lexile: 760L
Reading Level: 5.1
Overdue
Fiction
All copies at Binford Elementary School are out and at least one is overdue
| Field | Ind | Subfield | Data |
| --- | --- | --- | --- |
| 001 Control No | | | 14777 |
| 005 LastTransaction | | | 20210218144204.0 |
| 008 Data Elements | | | 130514s2013 nyub c 000 1 eng |
| 010 LCCN | | $a Record content licensor | 2013016538 |
| 020 ISBN | | $a ISBN | 978-0-316-20154-4 |
| 035 System Ctrl No | | $a System control number | (ICrlF)0771LJ |
| 035 System Ctrl No | | $a System control number | (ICrlF)fol14781330 |
| 040 Cataloging Src | | $a Original cataloging agency | DLC |
| | | $b Language of cataloging | eng |
| | | $c Transcribing agency | DLC |
| | | $d Modifying agency | DLC |
| | | $d Modifying agency | ICrlF |
| 042 Authentication | | $a Authentication code | lcac |
| | | $a Authentication code | pcc |
| 050 LC Call No | 00 | $a Classification number | PZ7.C677474 |
| | | $b Item number | Lak 2013 |
| 082 Dewey Class No | 00 | $a Classification number | [Fic] |
| | | $2 Edition number | 23 |
| 100 ME:PersonalName | 1 | $a Personal name | Colfer, Chris, |
| | | $d Dates associated with a name | 1990- |
| 245 Title | 14 | $a Title | The Land of Stories: Bk 2, The Enchantress Returns : |
| | | $b Remainder of title | The Enchantress Returns / |
| | | $c Statement of responsibility | Chris Colfer ; illustrated by Brandon Dorman. |
| 246 VaryingTitle | 30 | $a Title proper/short title | Enchantress returns |
| 250 Edition | | $a Edition statement | 1st ed. |
| 260 PublicationInfo | | $a Place of publication, dist. | New York : |
| | | $b Name of publisher, dist, etc | Little, Brown and Co., |
| | | $c Date of publication, dist, etc | 2013. |
| 300 Physical Desc | | $a Extent | 517 p. : |
| | | $b Other physical details | col. map ; |
| | | $c Dimensions | 21 cm. |
| 490 SeriesStatement | 0 | $a Series statement | Land of Stories |
| 500 General Note | | $a General note | Sequel to: The Land of Stories: the wishing spell. |
| 510 Citation/Refs | 3 | $a Name of source | Horn Book, April 2014 |
| 520 Summary | | $a Summary, etc. note | Against the will of their grandmother, twins Alex and Conner must find their own way into the Land of Stories to rescue their mother and save the fairy tale world from the greatest threat it has ever faced--the return of the Enchantress who cursed Sleeping Beauty. |
| 521 Target Audience | 8 | $a Target audience note | 760 |
| | | $b Source | Lexile. |
| 521 Target Audience | 0 | $a Target audience note | 5.1. |
| 521 Target Audience | 2 | $a Target audience note | 3-6 |
| | | $b Source | Follett School Solutions. |
| 526 Study Program | 0 | $a Program name | Reading Counts RC |
| | | $c Reading level | 4.6 |
| | | $d Title point value | 27.0. |
| 650 Subj:Topic | 7 | $a Topical term | Characters and characteristics in literature |
| | | $v Form subdivision | Fiction. |
| | | $2 Source of heading or term | sears |
| 650 Subj:Topic | 7 | $a Topical term | Magic |
| | | $v Form subdivision | Fiction. |
| | | $2 Source of heading or term | sears |
| 650 Subj:Topic | 7 | $a Topical term | Siblings |
| | | $v Form subdivision | Fiction. |
| | | $2 Source of heading or term | sears |
| 650 Subj:Topic | 7 | $a Topical term | Twins |
| | | $v Form subdivision | Fiction. |
| | | $2 Source of heading or term | sears |
| 650 Subj:Topic | 7 | $a Topical term | Fairy tales. |
| | | $2 Source of heading or term | sears. |
| 655 IT:Genre | 7 | $a Genre/form data or focus term | Fairy tales. |
| | | $2 Source of term | gsafd. |
| 700 AE:PersName | 1 | $a Personal name | Dorman, Brandon, |
| | | $e Relator | ill. |
| 700 AE:PersName | 1 | $i | Sequel to: |
| | | $a Personal name | Colfer, Chris, |
| | | $d Dates of flourishing | 1990-. |
| | | $t Title of a work | Land of Stories, the wishing spell. |
| 852 Holdings | | $a Location | BIN |
| | | $h Classification part | F COL |
| | | $p Barcode | 16549 |
| | | $9 Cost | $20.00 |
| 856 ElectronicLocat | 4 | $3 Materials specified | Cover image |
| | | $u Uniform Resource Identifier | https://covers.openlibrary.org/b/id/7905224-M.jpg |